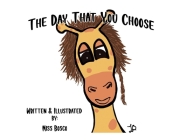 $14.99
Usually Ships in 1-5 Days
Description
---
Raffa Giraffa has been having a difficult time lately. No matter what he tries, nothing seems to be going his way. He gets down on himself. He lashes out in anger and doesn't know what to do about it. He keeps having bad days, and those bad days turn into bad weeks, which turn into bad months and then bad years! Luckily, his friend Lona Terrona is there to teach him how to regulate his emotions whenever he feels like things aren't going very well.

Join Raffa Giraffa as he teaches us a valuable lesson about life when he learns that, no matter what kind of day he is having, he has the power within himself to change it for the better. By utilizing a simple coping mechanism, readers learn from a very young age that the outcome to most situations is often right in their own hands. Raffa begins by starting each of his days with a promise to himself. His promise each day reminds him to do the right thing and always give more than required, even if he isn't asked to do so. Together with his friend Lona he learns to navigate his daily emotions, understanding that some days aren't always going to be bright and sunny, but knowing the entire time that the power to have a good day lies completely within him.

This book holds a valuable secret to self-regulating emotions and is an important reminder to both young and old that, no matter how bad your day seems to be going, you still have the power to turn it all around yourself. This story is a much-needed prompt to us all that, although we can't control other people, we can control our actions, and often times, controlling our response means controlling the situation and receiving a favorable outcome.

After looking to gift her own children a book with moral tenets, the author decided to write her own children's book about a giraffe who uses anger control techniques for kids. He learns anger management skills while giving him a foundation to make better choices. This story contains invaluable anger control techniques for kids and teaches children to control their own emotions and not let their emotions control them. Children will learn how to keep going when the day that they've begun goes entirely wrong.
About the Author
---
Miss Bosco is the mother of two beautiful boys and a former teacher. She enjoys relaxing by the pool or beach.

While teaching various grade levels, Miss Bosco often remarked how difficult it was for children to get back on track when a negative event derailed them. Sometimes, it is difficult for children to cope with their emotions if they've never been taught to do so.

When her sons began having a hard time regulating their own emotions, Miss Bosco had a simple idea to help them get through their issues, and together, this story was formed.