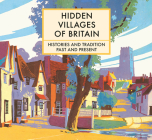 Description
---
Explore the most interesting and picturesque examples of British village life.
Based on the highly successful Channel 4 television series, Penelope Keith's Hidden Villages, this delightful travel guide follows Penelope's journey through Britain. Organized by region, it ventures into idyllic towns in the Cotswolds, cozy cottages of East Anglia, and treasures nestled in the North Yorkshire moors. Discover the fascinating history, colorful characters, and curious customs unique to each village (like the tar barrel-burning at Ottery St Mary and cheese-rolling down Cooper's Hill in Brockworth) and see how they survive in the present. Whether you're looking for a vacation destination, a guide to Britain's rural landscape, or something to inspire your innermost armchair traveler, this beautiful book--illustrated with Brian Cook's iconic art--fits the bill perfectly.
About the Author
---
Clare Gogerty is an award-winning editor and writer. She is the former editor of Coast magazine and is also the author of The National Trust Book of the Coast (Pavilion). She writes on a variety of subjects including UK travel, homes, and interiors.